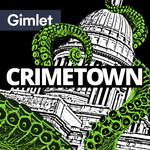 Crimetown
Welcome to Crimetown, a new series from Gimlet Media and the creators of HBO's The Jinx. Every season, we'll investigate the culture of crime in a different American city. First up: Providence, Rhode Island, where organized crime and corruption infected every aspect of public life. This is a story of alliances and betrayals, of heists and stings, of crooked cops and honest mobsters—a story where it's hard to tell the good guys from the bad guys. Hosted by Marc Smerling and Zac Stuart-Pontier.
Episodes
Buddy Cianci runs for mayor as the anti-corruption candidate, promising to change Providence. He's a novice Republican politician in a city ruled by Democrats and mobbed-up unions. As he struggles to get elected, he faces an impossible choice: stay clean and lose, or get a little dirty and win.

How does a kid from Providence become a mob enforcer? Two men share their personal stories of joining Raymond Patriarca's crime family. As they move from their formative years on the street to maximum security, they come up against murder charges, jailhouse feuds...and even the occasional farm animal.

Welcome to Providence, Rhode Island, a city where organized crime corrupted every aspect of public life. In the first episode of Crimetown, a young prosecutor named Buddy Cianci takes on a gruesome murder case. As the investigation heats up, Buddy goes head to head with the most notorious mob boss in the country—and launches a career that will change Providence forever.