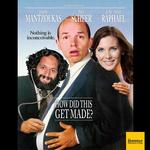 How Did This Get Made?
Have you ever seen a movie so bad that it's amazing? Paul Scheer, June Diane Raphael and Jason Mantzoukas want to hear about it! We'll watch it with our funniest friends, and report back to you with the results.
Episodes
Three straight dudes and a lesbian extol the zany, accidental virtues of the Village People's 1980 vanity project/gay milk ad/"PG movie with dicks in it," with extended philosophical detours into the utility of the penis and just who "We Are the Champions" was intended to speak to. Caution: yelling.

In a very special podcast cross-over event, Bond experts Matt Gourley and Matt Mira of James Bonding join Paul, June, and Jason to figure out if A View To a Kill is the worst Bond movie of all time. Recorded LIVE at Largo in Los Angeles, they cover h...