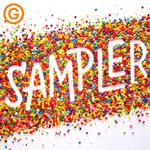 Sampler
Sampler brings you the best moments from the world of podcasts. We'll feature bite size tastes from a variety of shows plus we'll talk with podcasters to find out why they do what they do. Sampler is hosted by Brittany Luse and a different special guest each week.
Episodes
"True Crime" is perhaps the most talked about genre in podcasting but it's also a type of podcast that Brittany just can't stomach. Tracy Clayton of Buzzfeed's Another Round joins the show to discuss her love of these shows. Plus, Brittany talks to the creators of the only true crime podcast she's been able to enjoy.

Brittany plays some surprising clips for the people who got her into podcasting: the hilarious Kid Fury and Crissle, hosts of The Read.