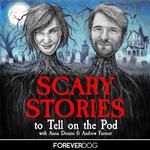 Scary Stories To Tell On The Pod
Join SNL Writer Anna Drezen and Comedian Andrew Farmer for an hilarious deep dive into the terrifying world of American folklore, ghost stories, hauntings, and urban legends, through the lens of the classic children's series Scary Stories To Tell In The Dark. Produced by the Forever Dog Podcast Network.
Episodes
Anna Drezen (Reductress, SNL) and comedian Andrew Farmer kick off this new podcast by exploring their spooky childhoods and the horror of prairie romance in Scary Stories to Tell in the Dark's classic tale, "Cold as Clay."