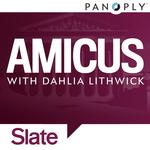 Slate's Amicus with Dahlia Lithwick
A program about the law, and the nine Supreme Court justices who interpret it for the rest of America. Part of the Panoply Network.
Episodes
This week, the Supreme Court heard arguments in McDonnell v. U.S., the former Virginia governor's appeal of his 2014 corruption conviction. On this episode, former federal judge Nancy Gertner tells Dahlia why she believes McDonnell should walk free.

Dahlia previews United States v. Texas – this week's big immigration case – with Brianne Gorod of the Constitutional Accountability Center. She also hears from Sen. Al Franken about the latest in the standoff over Obama's SCOTUS nominee, Merrick Garland.

More than two weeks into the standoff over Merrick Garland's nomination to SCOTUS, GOP leaders show no sign of backing down. Legal scholar Geoffrey Stone tells Dahlia that this stonewalling is not only unprecedented, but unjustifiable as well.

This week, SCOTUS heard arguments in Zubik v Burwell, the latest challenge to Obamacare. In it, a group of religious nonprofits are challenging the govt.'s workaround for employers who don't want anything to do with getting birth control to their workers. [more inside]