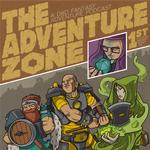 The Adventure Zone
Justin, Travis and Griffin McElroy from My Brother, My Brother and Me have recruited their dad for a campaign of high adventure. Join The McElroys every other Thursday as they kill a nauseating number of gerblins in ... The Adventure Zone!
Episodes
One last Lunar Interlude. As Kepler recovers from the devastation of the last hunt, the Pine Guard reflects on the events that brought them to their final confrontation.

The shadow of war looms over Kepler, West Virginia. A troubled Pine Guard must race to thwart a hundred insidious plans, all of which appear to be reaching toward a single, horrific conclusion. Duck opens the way. Aubrey takes a deadly risk. Ned writes his confession. [more inside]

THE YEAR IS 20XX. Organic organisms have all but been erased from the face of Faerun. Today, a small band of resistance fighters will execute their final operation to topple their robot overlords. They will be joined by three goobers who have no idea where they are, or what's going on, or anything, really.

The Pine Guard is scattered, in more ways than one. Kepler's long-held secrets are coming to light over the course of a single evening. Their foe is beginning to take shape, but how much farther will they fall before they can stop it? Duck pushes the panic button. Aubrey confronts her past. Ned holds onto what little he has left.

The Pine Guard continue to chase down their target — but when said target can look or sound like anyone, how do they tell friend from foe? Duck goes on a field trip. Aubrey discovers a treasure trove. Ned makes a startling announcement.

Our heroes try to contain the spread of information through the citizens of Kepler, and try to keep their overeager allies in check. Aubrey gets stonewalled. Duck fights destiny. Ned says farewell to an old friend.

We're back with everyone's favorite podcast-within-a-podcast-about-the-original-podcast, as hosted by the people in said podcast! We're answering your questions about Amnesty, Live Shows and all the other pies we've stuck our fingers in over the years.

The Pine Guard are scattered to the wind as their shape-shifting target wreaks havoc around Kepler. Duck tells the truth. Aubrey wields her mightiest magic yet. Ned just tries to stay alive.

Join the original rowdy boys on a quest to hold off the apocalypse — again — by confronting a deity whose machinations are too sinister to truly behold. Or, maybe, he really just wants to throw a bangin' party. One of the two.

The Pine Guard face off against their shapeshifting quarry in precariously tight quarters, while their long-guarded secret inches closer toward the light. Aubrey joins the feds, Duck puts his board to work. Ned goes digital.

The Pine Guard negotiate with their would-be monster-hunting rivals, while the true nature of their quarry continues to elude them. Duck wears a belt. Aubrey has a tough conversation. Ned reaches out beyond the grave.

A new threat to Kepler, West Virginia makes itself known — both to the Pine Guard, and to a group less patient with its wanton destruction. Duck plays detective. Aubrey does some counseling. Ned gets seen.

A Lunar Interlude. The Pine Guard catch their breath after a hectic, fateful hunt. Ned goes car shopping. Aubrey confesses to her misdeed. Duck meets a kindred spirit.

Angus McDonald had but one item on his Candlenights list: A very special action doll of his very favorite wrestler. Unfortunately for him, Tres Horny Boys were assigned to acquire said toy. Can our three heroes fulfill the boy detective's Candlenights wish? Or will the forces of outrageous consumer demand prove an unbeatable foe?

With an apocalyptic calamity looming over Kepler, the Pine Guard make their final preparations, and march to battle against a stationary, reality-twisting foe. Aubrey speaks to oblivion. Ned gets a taste of his own medicine. Duck says goodbye.

The Pine Guard are dialing into the identity of the abomination that's been terrorizing Kepler with accidental mayhem. But will prying eyes and woodland brawls prevent them from finally cracking the case? Duck reminisces with an old friend. Ned goes on a walk with a new friend. Aubrey threatens a rival.

BOO! That's us jumping out and surprising you with an episode that is A) One day early and B) An exquisitely spooky live adventure! It's our Halloween Special, and boy howdy, is it a wild one. Thanks to the Paramount Theater in Seattle, and everyone who came out to see us!

The Pine Guard welcomes and interrogates their new companion, and has another brush with the intangible, unlucky forces that seem to be conspiring against them. Duck teaches talking. Aubrey throws a drink. Ned threatens a book.

With another accidental catastrophe averted, The Pine Guard catch their breath and split up to take care of some mid-Hunt business. Aubrey takes some magic lessons. Ned reflects on his larcenous past. Duck makes use of the In-fur-mary.

We're running behind on the next episode of Amnesty, so in it's stead, here's our most recent live show from Atlanta, GA! Follow Tres Horny Boys and their inscrutable companion on a journey across the planes as they learn the horrible history of one of their iconic armaments.

The Pine Guard meet the voice on the other end of the prophetic phone calls, and receive a new, even more dire warning of impending disaster. Duck makes some friends in the forest. Aubrey eyes some eyeglasses. Ned hits the brakes.

A mysterious caller has warned the Pine Guard of a disaster that will befall Kepler's citizens in mere minutes. Will they be able to prevent this impending calamity? And just who was on the other end of the telephone line? Duck rushes in. Aubrey flames on. Ned discovers the awful truth.

The holidays have descended upon Kepler, West Virginia. While the town prepares for its annual festivities, the Pine Guard prepares for the coming Abomination. Ned gets under the hood. Aubrey does some risky sleight of hand. Duck gets two fateful phone calls. (Thanks to Evan Palmer [@evantickles] for our new cover art!)

Our heroes receive a letter from an old friend requesting their aid on the open seas. Spurred on by the promise of incredible treasures, Tres Horny Boys set sail -- but what dangers await them beneath the ocean's waves?

A Lunar Interlude. The Pine Guard and the residents of Amnesty Lodge take a well-earned break at a local winter recreation hotspot. Aubrey meets the Hornets. Duck reveals soupy secrets. Ned logs onto the InterNed.

The Pine Guard arrive at an unlikely battleground, and face off against their shapeshifting foe. With an ominous vision predicting catastrophe, can they conquer the abomination before meeting their end in a watery grave? Aubrey taps into something new. Duck takes flight. Ned goes for a night swim.

With Amnesty Lodge and its residents in peril, the Pine Guard sets out to plan their next hunt post-haste — but can they find the strength to do so without the guidance of their absent leader? Aubrey does some recon. Duck gets the hard questions. Ned goes for a drive.

In order to defeat the abomination plaguing the waters of Kepler, the Pine Guard must first take an otherworldly field trip. Duck becomes a flyboy. Aubrey wants to touch a crystal. Ned makes his television debut. Additional music: http://www.purple-planet.com/

Travis is on vacation, so here's our live show in Dallas from earlier this year! Tres Horny Boys reunite to help out some old friends who've run into some stiff competition with their small business, and perform more than a few explosive stunts along the way.

The Pine Guard's prey proves too elusive for them to take down with their usual methods, forcing them to turn to outside help. Like ... FAR outside. Ned fights his reflexes. Aubrey flames out. Duck gets his victory fanfare.

The Pine Guard heads to the scene of last night's attack to gather valuable intel about the latest abomination -- but end up finding much, much more than they bargained for. Aubrey sees the unseen. Duck helps with the laundry. Ned takes a dive.

A new menace encroaches on Kepler, West Virginia. Have our heroes kept up with their training in the months since their last monstrous encounter? Or has this latest abomination caught them unawares? Aubrey takes a dip. Duck shows off some new moves. Ned gets airtime.

Everyone's favorite Talk Show About a Podcast Hosted By The People Who Do the Actual Podcast is back, just in time for the MaxFunDrive! We're answering your questions about the experimental arcs, and discussing our plans for season two with The Adventure Zone: Amnesty!

SEASON TWO APPROACHES. Find out what our plans are for the future of The Adventure Zone in this announcement-filled episode! Also discussed: The MaxFunDrive! Our book tour for the graphic novel (tickets go on sale very soon at mcelroyshows.com/tours)! A new The The Adventure Zone Zone! Some details on the buckwild thing Justin did for us! Some peppy piano music that came with Garageband! Tune in!

Sunlight creeps over the horizon. The Graysons are one big break away from cracking their case wide open -- but will they find their quarry before Dry River wakes up? Augustus does some spectral recon. Gandy cracks open a dangerous tome. Errol angers a friend.

The Graysons find an unexpected collaborator in their investigation of Jeremiah Blackwell's murder, but with slivers of sunrise shining down on the streets of Dry River, has their newfound luck come a moment too late? Gandy parts the veil. Augustus summons a snack. Errol meets the folks pulling the strings.

The Graysons continue their quiet investigation into the killing of Jeremiah Blackwater -- but outside interests are starting to take notice. Gandy plays a crazy game of poker. Errol ties up a quest. Augustus swears on his soul.

The Graysons set out to solve a murder in the streets of Dry River before sunrise. Augustus pulls some spectral pranks. Errol follows his nose. Gandy meets Death.

Travis takes the wheel as we create our characters for our next mini-arc, The Adventure Zone: Dust! We're playing the supernatural RPG Urban Shadows this time around. Listen in to get a brief primer on the game, our characters, and the unincorporated, Wild West-inspired town of Dry River.

Our heroes band together to hunt down the Beast terrorizing the woods outside Kepler. Ned remembers a fateful night. Aubrey receives a letter. Duck feels the weight of destiny.

Our heroes learn the whole truth of Mama's endeavors while recovering from a strange evening, and begin planning their first hunt. Aubrey remembers a relic from her past. Duck gets a late night visit from Minerva. Ned gets stuck.

Fate draws our heroes towards the same spot in the Monongahela National Forest, where, at long last, their destinies entwine. Ned has a remarkable dream. Duck travels to a strange land. Aubrey starts a fire.

Our heroes take one step closer toward their joined destinies, and learn the truth about the woods outside Kepler in their own ways. Aubrey visits the Lodge. Ned shoots a fan film. Duck gets a visit from an old friend.

Our heroes begin a fateful day in the unassuming, rural ski town of Kepler, West Virginia. Duck answers a peculiar distress call. Aubrey puts on a memorable magic show. Ned plans his next grift.

We're moving on to a new game, new genre and new world as we continue our run of experimental mini-arcs! This time around, Griffin's back in the saddle as GM as we play the Horror-Lite RPG Monster of the Week! Join us in this setup episode if you want to hear about this arc's setting, and get the 411 on our new characters.

Our heroes reconvene at an important site from their storied past to traverse a perilous dungeon. What awaits them is far more deadly than they could have imagined -- and far more ... festive?

Our heroes are joined by a familiar face as they take on a dangerous heist in another reality. ALSO: Some news about the next few experimental arcs!

Our heroes come face-to-face with the King of America in the climactic finale of our Commitment arc. Remy does those good flips. Nadiya causes some collateral damage. Kardala swears her very genuine, heartfelt loyalty.

Our heroes face their first test of combat with their newfound superpowers, with ... mixed results. Kardala tells a painful joke. Remy keeps the peace. Nadiya is good out here.

Our heroes are empowered by a somewhat gross and dangerous scientific process, and are dispatched on their first mission. Remy tries to keep the peace. Nadiya picks her favorite movie. Kardala breaks free.

Our new heroes attend a corporate mixer for the Do-Good Fellowship that will change the course of their very lives. The first chapter in Clint's superhero story, taking place inside of the Fate system. Remy embarks on a slider quest. Nadiya threatens a co-worker. Irene solves a particularly difficult employee benefit issue.

As we prepare for Season Two of The Adventure Zone, we're going to be doing a handful of short-form, experimental arcs, taking turns running new games and exploring new genres. Our first experiment is a super hero story created by Dad, who's running us through the Fate system! Come learn the basics of the Fate rules, and meet the new characters we'll be playing over the next couple of episodes.

The Tres Horny Boys are dropped into a deadly virtual training program modeled after a classic D&D adventure. With the help of the Chat, can they make it through Lucas' trap-filled dungeon before their lives run out?

Earlier this year, Tres Horny Boys rolled up on Austin, Texas, and wove a tale of demons, dreamscapes and High School Drama. THIS IS THAT TALE.

Everyone's favorite talk show about a podcast hosted by the participants in said podcast is back! This time, we're talking about the end of the Balance campaign, answering a bunch of listener questions and talking about what's next for the show!

Our heroes reach their journey's end. Additional Music by Reeder: https://iamreeder.bandcamp.com/

Two lights shine down from the sky. Their story passes through reality. His song fills their hearts. The world fights back. Music: "Voidfish (Plural) by Rachel Rose Mitchell - https://rachelrosemitchell.bandcamp.com/

Our heroes' memories have returned. At the end of everything, will they stand together against the encroaching darkness? Or will their past sins leave them irrevocably driven apart?

Our heroes long, forgotten journey comes to an end.

The Hunger pursues, and our heroes escape. They've been keeping up the chase for decades now, evading without fail. But the Hunger's getting faster. The journey's getting harder. The team must take drastic steps, just to stay afloat. We're nearly caught up, now. Merle writes his story. Magnus breaks his bonds. Taako plans a very good day.