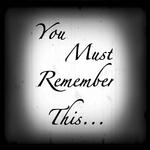 You Must Remember This
You Must Remember This is a storytelling podcast exploring the secret and/or forgotten histories of Hollywood's first century. It's the brainchild and passion project of Karina Longworth (founder of Cinematical.com, former film critic for LA Weekly), who writes, narrates, records and edits each episode. It is a heavily-researched work of creative nonfiction: navigating through conflicting reports, mythology, and institutionalized spin, Karina tries to sort out what really happened behind the films, stars and scandals of the 20th century. Part of the Infinite Guest network from American Public Media.
Episodes
In this episode we'll talk about Charlie Manson's arrival in Los Angeles, discuss Dennis Wilson's life and the role he played in enabling Manson's rock n' roll delusions, and explain how The Beach Boys came to record a song written by Charles Manson.

This season, You Must Remember This will explore the murders committed in the summer of 1969 by followers of Charles Manson. Today, we'll talk about what was going on in the show business capital that made Manson seem like a relatively normal guy.

Walt Disney changed Hollywood and brought millions of children and adults boundless joy. And yet, Disney's legacy is marred by the common perception that he was also a racist, misogynist and anti-semite.