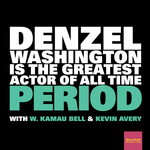 Denzel Washington is the Greatest Actor of All Time Period
Kamau discusses how great Denzel Washington is with his friend Kevin Avery.
Episodes
Man on Fire may very well be the ultimate Denzel Washington movie. Kevin & Kamau talk about the wonderful Denzel/Christopher Walken team-up, Denzel becoming the greatest dad in the world, and why the movie is basically The Equalizer in Mexico. They also discuss Rachel Dolezal identifying as black and Kevin's surprise visit to the Container Store. Plus, they call up friend of the show Johnny Skourtis aka Ralphie from The Equalizer to talk about the the now green-lit sequel to The Equalizer.

Special guest Kathryn P. McMurphy returns to discuss the 1995 neo-noir mystery Devil in a Blue Dress with Kevin & Kamau. They talk about Denzel passing the ball to Don Cheadle, try to figure out the deal with that guy cutting up all the trees in the movie, and get into the sexiest Denzel moment in film history. Plus, a quick update on Carbon Copy! [more inside]

Merry Christmas Denzealots! W. Kamau Bell & Kevin Avery are in the studio together for the first time to discuss the 1995 submarine film Crimson Tide, and to celebrate Denzel's (and Kevin's) birthday! They'll talk about Kevin's love affair with submarine movies, the non-stop gun cocking in this film, Denzel going full blerd during a Silver Surfer argument, and Denzel going toe to toe with America's Michael Caine, the legendary Gene Hackman. [more inside]