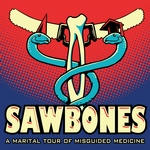 Sawbones: A Marital Tour of Misguided Medicine
Join Dr. Sydnee McElroy and her husband Justin for a tour of all the dumb, bad, gross, weird and wrong ways we've tried to fix people.
Episodes
Have you ever had the sudden urge to go to the bathroom while browsing in a TJ Maxx or a book store? Well, apparently many people have. This phenomenon was first mentioned by Mariko Aoki to a Japanese magazine in 1985, and has recently made its way to TikTok. Dr. Sydnee and Justin investigate some different theories and philosophies around the sudden need to poop while book shopping. Music: "Medicines" by The Taxpayers

AOA is a medical honors society that's supposed to separate top-tier medical students from the rest of the pack. It helps determine which doctors get the top jobs in the most competitive fields. The problem? There's implicit racism in the way it chooses members, and fixing it may be a massive challenge.

If you received the typical, white-centric education, you probably associate the Black Panthers only with violence and political protest. This week on Sawbones, we talk about their work in medical research advocacy and creating public health programs that sought to make life better for all black and oppressed people. 

This week on Sawbones, we examine how Black Americans have received substandard care and fewer opportunities within the American medical system. Also, some guidance on how to protest as safely as possible in the face of COVID-19.

Fear that the government and doctors were allied in a grand conspiracy to oppress the populace was at a fever pitch. The people took to the streets to prove that they would not abide by quarantine, that they would defy the powers that be and go on about their daily lives.The year is 1831. The disease is cholera.

Two doctors made headlines this week by trying to construct the narrative that the COVID-19 pandemic has been overblown by the hospital system in pursuit of more profits. This week, Dr. Sydnee and Justin explain why their numbers don't add up, and how you can combat this narrative if it, depressingly, sticks around.Music: "Medicines" by The Taxpayers

Live from Candlenights 2018, we're so proud to present a staged reading of the new Hallmark Christmas movie written by Justin and Sydnee McElroy: A Medicine Called Christmas. Music: Adam Sakiyama CAST: Narrator: Rachel McElroy Daniel: Tommy Smirl Tabitha: Sydnee McElroy Phil: Griffin McElroy Chris: Justin McElroy Ms. Crimble: Teresa McElroy Mr. Frankson: Dwight Slappe Mr. Cameron: Travis McElroy Beth: Teylor Smirl Mandy: Rileigh Smirl Mr. Golfberg: Michael Meadows Santa: Clint McElroy

This week on Sawbones, Sydnee and Justin are back with, and we don't think we're exaggerating here: The weirdest story they've ever told. [more inside]

This week on Sawbones, Dr. Sydnee and Justin talk about the latest hot trends in mercury fumigation as they explore the history of syphilis. Music: "Medicines" by The Taxpayers (http://thetaxpayers.net)

This week on Sawbones, Dr. Sydnee and Justin wear a Taz T-shirt in a mall fashion show. Also, bile, blood and phlegm is discussed. Music: "Medicines" by The Taxpayers (http://thetaxpayers.net)

This week on Sawbones, Dr. Sydnee and Justin take a sunrise and sprinkle it with dew. Music: "Medicines" by The Taxpayers (http://thetaxpayers.net)

This week on Sawbones, Dr. Sydnee and Justin revisit a horrifying, real-world case of Boogie Fever. Music: "Medicines" by The Taxpayers (http://thetaxpayers.net)