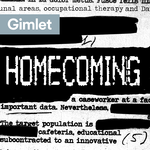 Homecoming
The first scripted series from Gimlet Media, starring Catherine Keener, Oscar Isaac, David Schwimmer, David Cross, and Amy Sedaris. Homecoming centers on a caseworker at an experimental facility, her ambitious supervisor, and a soldier eager to rejoin civilian life — presented in an enigmatic collage of telephone calls, therapy sessions, and overheard conversations. It's an innovative, immersive audio experience — a psychological thriller unfolding across the six episodes of Season One.
Episodes
What happened to the aquarium? Do you feel like coming to work every day? I'm going to stop you there, okay? [more inside]

Would you call this a date? The sequel is ten times as good as the original. [more inside]

Walter asks for an explanation. Colin asks for the pot roast. [more inside]

A road trip. A simulation. A pivot. Another road trip. A viper's nest. [more inside]

Belfast is in Dubai. Palm trees are in Florida. A wheelchair is in the bathroom. The Titanic rises.

New clients arrive. A customer asks for the bill. The airport signage needs a lot of work. A bird wakes up in the Everglades.Homecoming was created and written by Eli Horowitz and Micah Bloomberg; directed by Eli Horowitz; sound design, editing, and music by Mark Henry Phillips; produced by Alicia Van Couvering and Mark Henry Phillips; casting by Henry Russell Bergstein. Homecoming is a production of Gimlet Media.