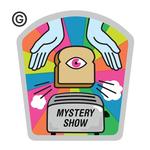 Mystery Show
A new podcast about mysteries, hosted by Starlee Kine, from Gimlet Media
Episodes
Starlee investigates a mysterious Welcome Back, Kotter lunch box.

Starlee and her friend Miranda get stopped at a red light and see something shocking.  

The Case: A young boy finds an enchanting object in the street.

The Case:  Andrea's a writer no one reads. Then she makes a shocking discovery.

The Case: Laura rents a video. When she tries to return it the next day, the video store is gone.