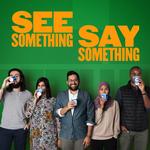 See Something Say Something
Every week, BuzzFeed's Ahmed Ali Akbar gathers folks together to drink tea, tell stories, and talk about being Muslim in America.
Episodes
Can the courts overturn President Trump's executive order? This episode, Ahmed talks with law professor Muneer Ahmad, who filed a lawsuit over the weekend challenging the immigration and travel ban. They talk about the details of the lawsuit, why a federal judge issued a stay to halt deportations, and what the legal path forward is for overturning the ban.

The previous episode (our live show) was supposed to be the end of Season 1. Then, President Trump issued an executive order blocking refugees, immigrants and travelers from seven Muslim-majority countries...we'll be posting a few short episodes to keep you up-to-date this week. First up, Ahmed talks with Zahra Billoo and Ramzi Kassem about what to do if you or someone you know is detained at an airport... [more inside]

We share our thoughts and feelings on the outcome of the election, the role of the internet, and what we think we can do next. [more inside]