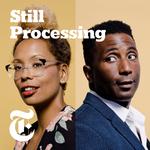 Still Processing
Welcome to the world according to Wesley Morris and Jenna Wortham! They're talking every week (to each other, to colleagues, to friends, to makers) about culture in the broadest sense. That means television, film, books, music — but also the culture of work, dating, the internet and how those all fit together. Wesley is The Times's Pulitzer Prize winning critic at large, and Jenna is a staff writer for The New York Times Magazine. They're working it out, one week at a time.
Episodes
This week, in light of Justin Timberlake's upcoming Super Bowl performance, Jenna and Wesley revisit his infamous 2004 "wardrobe malfunction" halftime show with Janet Jackson. They dissect the public reaction to "nipplegate," why Janet (and not Justin) took the fall, and how the controversy changed the course of both artists' careers. [more inside]

"This week, we examine the outrage that is expressing itself in all corners of the culture. We're thinking about why women's anger is feared, and what it means to dole out punishment against men. Whose anger counts, what kind of anger is healthy, and is there solidarity to be found in anger? Our conversation took us to places we didn't know we'd go--including becoming enraged ourselves." [more inside]

Jenna and Wesley are back for Season 3! This week, they look at the movie "Proud Mary" as a jumping-off point for the cultural moment that black women are having. The discussion includes a brief history of black women in movies and television, from Hattie McDaniel to Dorothy Dandridge to Whoopi Goldberg to Halle Berry. Then Wesley and Jenna consider what all this means for Oprah's theoretical presidential run. [more inside]

While we are discussing the Emmys, which Jenna barely wanted to watch, something amazing happens: a call from somebody who actually has an Emmy! Yup, it's RuPaul. He talks about both the importance of his Emmy-winning show, "RuPaul's Drag Race," and its non-importance, which, according to him, is its actual importance: "Identity is a hoax, people!" Then it's on to a conversation about "Bridget Jones's Baby" and "Snowden," two films with nothing in common — well, except in Wesley's experience of them. Ultimately, the week's news — police shootings, political insults, and, yes, superstar divorce — proves too much for us. So we escape to Bryant Park, where Jenna gives Wesley some advice for how to detox.