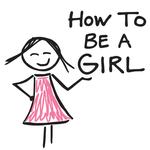 How to Be a Girl
How to Be a Girl is an audio podcast I produce about life with my six-year-old transgender daughter. It stars the two of us -- a single mom and a six-year-old "girl with a penis" -- as we attempt together to sort out just what it means to be a girl.
Episodes
This is a continuation of Episode IX. It tells the rest of the story of what happened when her transgender daughter started second grade at a new school. Music credits: "Light Thought Variation 2," "Thatched Villagers," and "Relaxing Piano Music" by Kevin MacLeod (incompetech.com), "Moonlight Sonata (Ludwig van Beethoven)" by Dr. Phibes and The Ten Plagues of Egypt,  "Bagatelle (Ludwig van Beethoven)" by Circus Marcus.  THANK YOU to my generous supporters on Patreon.com: Nyssa, Nicholas Harrigan, Sebastian Riisgaard, Krystal, Andrea Sackett, Andy Moore, David, Dustin Andres, Myrna Bohan, Emily Savin, David Rosenthal, Jo-Hanna Read, Meghan O'Hara, Allison Mulcahy, Maraia Ener, Gil Rich, Hampus Jakobsson, Tammy, Sonali Bhagat, Debby Swayne, Clare Jones, Gene Gibson, Nathan Jones, and Brookie Judge.

This episode has been six months in the making, because that's how long it took for this story to play out. It's the story of my daughter entering second grade at a new school where we knew no one, almost no one knew her secret, and I had no idea how I was going to keep her safe. Music credits: "Blackbird" and "Light Thought Variation 2" by Kevin MacLeod (incompetech.com), "Chiaroscuro" by Zé Trigueiros, and "Piano Symphony No. 1" by Miss M.

Earlier this year, my daughter got to meet the transgender TV star Laverne Cox. I wrote about it for my blog, and that heart-warming, feel-good post went crazy viral on the internet.  But there's more to the story.  Here it is. My daughter gave her first interview (to Amy Poehler's Smart Girls website): Check it out!Music credits: "Hearts Mend (Prelude)" by Rebecca Foon, "EDM Detection Mode" by Kevin MacLeod (incompetech.com), "nu pop2" by Plusplus.

When my son first started saying that he was actually a she, I went looking for information. I wanted hard numbers.  I wanted data.  I wanted science to tell me to do. This is what I discovered.

When he was three years old, my son informed me that she was actually my daughter.  I'm now the mother of a happy, confident little transgender girl, but it took a while to get here.