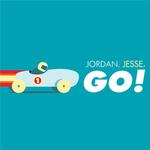 Jordan, Jesse GO!
Jordan, Jesse, Go! is a hilarious mix of the intelligent, silly and profoundly vulgar. Jesse Thorn (NPR's Bullseye) and Jordan Morris (@Midnight) talk about feelings, sex, culture and miniature donkeys. An iTunes staff pick.
Episodes
Justin, Travis and Griffin McElroy from fellow MaxFun podcast My Brother, My Brother and Me take over for Jordan and Jesse this week!  They're joined by Chuck Bryant of the Stuff You Should Know podcast for a discussion of the war on cargo shorts, Justin's children's book ideas, Travis's new favorite fall TV show The Grinder.  Plus, Griffin shares a moving story about the time he learned a hard lesson about sweet cream.

Kevin "Sprinkles" Pereira joins Jordan and Jesse for a discussion of Santa, Snapchat, and Jordan's new calendar.

Writer Tess Rafferty joins Jordan and Jesse for a discussion of Jurassic World, chain restaurants, and Jordan's trip to see the Cabazon Dinosaurs. [more inside]

Podcaster, TV host and writer Scott Aukerman joins Jordan and Jesse for a conversation about washing behind the ears, children's books, and Jesse's experience on Scott's television program.