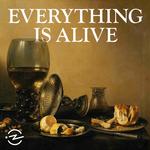 Everything is Alive
Everything is Alive is an unscripted interview show in which all the subjects are inanimate objects. In each episode, a different thing tells us its life story--and everything it says is true.
Episodes
Vinny has been through a lot, and a lot has been through Vinny. Featuring Vinny Thomas. Find more from Vinny on Instagram and Twitter @vinn_ayy.

Tami is a sharpie, and Ed is her cap. After all these years, marriage has left an indelible mark. Featuring Tami Sagher and Ed Herbstman.

Scott is always listening.

Note: this episode is a followup to "Chioke, Grain of Sand." If you haven't heard that episode, we suggest starting there. Chioke just wants to be transparent with you.

Sebastian, Alex, and Alex get to know each other, inside and out. [more inside]

Petey's just trying to stay on top.

Alligator is a stuffed animal, and things are about to get different.

Annie is a jack o' lantern, but she doesn't want to scare you.

Chioke is a grain of sand. He's not as small as he looks.