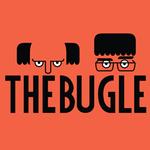 The Bugle
John Oliver and Andy Zaltzman, the transatlantic region's leading bi-continental satirical double-act, leave no hot potato unbuttered in their worldwide-hit weekly topical comedy show.
Episodes
Well isn't this exciting! After nearly five years John Oliver returns to The Bugle for a bumper edition!

Andy is joined by Helen to look at a few stories of human endeavor, including: creation of the MAMMOPHANT, beauty spot stag do's and traffic lights versus Darwin. What are we doing to prolong humankind? Not much AND too much.

Brexit resignations, Trump tantrums and MASSIVE CHICKEN NEWS. [more inside]

Andy is joined by Wyatt Cenac to look at the latest developments either side of the Atlantic, plus Fidel Castro and buckets of gold.

Nish Kumar joins Andy this time to discuss Britain post-Brexit, the refugee crisis and the Chicago Cubs

We're back and we left it to buglers to pick the topics - Trump, Brexit, Bacon and Leicester City are top of your list. #Bugle2016

Greece elects a new leader and Europe freaks out. [more inside]

World leaders head to Davos, but the big question has to be asked... where's Bono? [more inside]