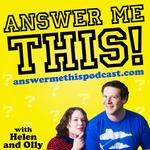 Answer Me This!
Helen Zaltzman and Olly Mann host the award-winning podcast that has been answering the world's questions since 2007. Visit our official website at answermethispodcast.com and buy classic episodes, albums and apps at answermethisstore.com
Episodes
Join us for a jaunt through the the best bits of Answer Me This! in 2015. And, as every year, there are the Previously Unheard Bits of AMT, plus our favourite: the Melancholy Voicemail Parade. [more inside]

Today's questioneers wonder about Noel Edmonds's small Twitter fanbase, the oldest pub in Britain, and vasectomy aftercare. [more inside]

Today we help listeners deal with their ex-flatmates, their saucy-looking sibling relationships, and their inferiority complexes over their local multiplex. We also learn about the peace symbol, St Petersburg becoming Leningrad becoming St Petersburg, and an extremely foolish bet one questioneer is in danger of losing.

In AMT314 we tackle questions about how to dump your slowpoke training-buddy, what your children should call you, and what's up with tinfoil hats. [more inside]

Unsuitable celebrity pets prowl through today's episode; We're a crossword clue and a powerful influence upon Burger King's business plans; We also take a dip in a charity bathful of beans, try to see into Snoopy's psyche, and cosh each other with stage weapons. [more inside]

Today we deliberate over careers, redundancy, hair dye and the Royals eating hot dogs. Answer Me This! Episode 308 is a surprisingly jobs-themed episode, with questions about whether your tertiary education should prepare you for one, to how your hair can affect your ability to get one, to what you do when you lose one. [more inside]

Hey you! On today's question-answering slate: female strippers, male strippers, drupes, Grumpy Cat, beckoning cats, Cats, Lil Bub: the Chris Martin of cats, Ben Lashes, fast food delivery, wedding diplomacy, Happy Meal toys, Ronald McDonald vs Carol Vorderman, human beatboxing, coconuts, and Femidoms. Plus: Olly's brain or his wang can be stimulated, but never at the same time; Helen could have been the late-90s Beanie Baby trading magnate of Tunbridge Wells; and Martin the Sound Man exercises uncharacteristic restraint in the face of a question about beatboxing. Though he still manages to sound like he's polishing a window with his own spit. [more inside]

This episode the the gang considers: Ainsley Harriott; Extreme Wink Murder; standing desks; Britney Spears's haircare range; Barry Norman's pickled onions; Paul Simon's chicken and eggs; yellow dusters; skateboarding and similar activities; having 'a bit of fun' on Tinder; and Chicken Kiev. [more inside]

Listeners, thank you so much for contributing your attention, questions and eartime to us this year. What a year it has been! Relisten to the highlights – and lowlights, including such annual delights as the Parade of Melancholy Calls and the blooper reel – in The Best of Answer Me This! 2014. [more inside]

Happy Thanksgiving to AMT's American pals! Today's episode is thematically appropriate for you, since it involves a question about Disney's turkey legs; so don your turkey boxer shorts and turkey tops, strap on your turkey watch, inhale the delicious scent of turkey, plug in your turkey headphones and listen to Answer Me This! Episode 303 All the information about this episode is at answermethispodcast.com/episode303. [more inside]