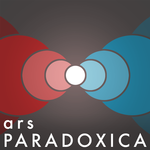 ars PARADOXICA
At the dawn of the Cold War, the accidental inventor of time-travel finds herself press-ganged into service by a secretive branch of the US government.
Episodes
Time stands still.

Work and pleasure both cause unwanted stress.

Destination: Point-of-Exile, Colorado.

Past mistakes catch up with the town of Polvo.

Something else instead!

Tragedy leads to innovation; innovation leads to tragedy.

"I am Time grown weary to destroy the world, embarked on a course of world annihilation."

The team takes a break.

A power outage creates an unlikely friendship. [more inside]

ars PARADOXICA is a love letter to physics, fiction, and the future. It's a disorienting journey through spacetime and the Cold War. It's a tome of secret history you stumbled across in a library in the dead of night. It's also a serial audio drama. [more inside]