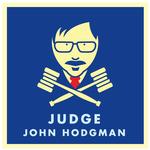 Judge John Hodgman
John Hodgman's Today in the Past podcast is now The Judge John Hodgman Podcast. Have your pressing issues decided by Famous Minor Television Personality John Hodgman, Certified Judge. If you'd like John Hodgman to solve your pressing issue, simply email it, along with your phone number, to hodgman@maximumfun.org. THAT IS ALL.
Episodes
This week, Tried Green Tomatoes. Michael files suit against his friend and neighbor Sam. Michael is growing tomatoes on their shared rooftop and wants Sam to go onto the roof to admire his plants. Sam thinks he should never have to set foot on the roof. Who's right? Who's wrong? Only one can decide! Thank you to Daniel Herrera for naming this week's case! To suggest a title for a future episode, follow Judge John Hodgman on Facebook. We regularly put out a call for submissions. — SUBSCRIBE TO THIS PODCAST in APPLE PODCASTS or the RSS FEED

This week's episode was recorded live at San Francisco Sketchfest! The first case is "Bleach of Contract." Then, Nnekay FitzClarke of MINORITY KORNER joins the stage for Swift Justice! She helps the judge rule on cases about home clutter, fancy dog breeds, and song key changes. Plus music from Martin Luther McCoy!
[more inside]
This week's episode was recorded LIVE IN PORTLAND, OREGON! The first case is "Brown vs. Hoard of Vegetation." Then, Carrie Poppy and Ross Blocher of OH NO, ROSS AND CARRIE join the stage for Swift Justice! They help the judge rule on cases regarding card game rules, taking photos of a sleeping friend, and being called by the wrong name. Plus music from Máscaras!

With Special Expert Witness Alton Brown! Stephanie brings the case against her partner Jeff, who works as a chef. Jeff will often leave his smoky and bacon-y aprons and detritus in his car. Stephanie thinks that the car should remain neat and clean; Jeff says the mess is manageable, and comes with the job. Who's right? Who's wrong?

We premiere a new segment this week, Status Conference, plus a dad goes on trial. Marc brings the case against his wife Polly. They had a beloved dog who passed away several years ago. Marc would like to assemble and prepare a display of the skeleton in memory of their pet. Polly thinks this is weird and gross. Who's right? Who's wrong?

Jeanna files suit against her husband Craig. She insists that Craig mishandles books, by dogearing the pages and using them as doorstops around the house. [more inside]

When is it OK to leave your own party early and retire to bed?

Judge Hodgman rules on busted doors, schoolbus naming, and whether or not cereal is a soup. Plus a Hodgman Dubbel update! [more inside]

Is Jonas a snob for preferring more expensive liquor? [more inside]

Should Scott get back out on the ice and play beer league hockey with his friend, or is he TOO OLD? [more inside]

Should Anton give psychics a chance? This week, with expert witness Carrie Poppy of Oh No! Ross and Carrie! [more inside]

A man starts a Hulk parody account of a friend on Twitter. Is it funny, unoriginal or just STRAIGHT UP IMPERSONATION? [more inside]

Judge Hodgman and Bailiff Jesse clear out the docket with gusto, answering questions about pickle relish, Pee-wee, apartment tours, and the difference between Jim Varney and Verne Troyer.

Judge Hodgman and Bailiff Jesse tackle the reuse of ziptop bags, sleeping in jeans, Luddites, and creative work in today's docket clearing. Plus, Judge Hodgman admits to some monstrous behavior.

This week, our live show from SF Sketchfest, including "Justice in Thirty Minutes or Less", "Spit Decision" and music from John Vanderslice and A-1.

It's a docket-clearing episode! Judge Hodgman weighs in on loud popcorn eating, anniversaries, and fedoras, and selects the best drawings of his proposed Double-Ended Unicycle. [more inside]

A wife thinks her husband is too strict about their no-shoe policy inside the home. [more inside]

Should an elderly cat be treated as a family member? [more inside]

A man wants to dedicate a room of his house to the movie Frozen; his husband objects. With special expert witnesses Robert Lopez and Kristen Anderson-Lopez!

A man suggested that his friend read a very long series of fantasy novels, but isn't satisfied with the pace of her reading. [more inside]

A man seeks to enforce a contract regarding pizza toppings.

We address winter holiday disputes in this all-docket episode (with a special surprise appearance from a past guest).

Should a couple install a sports team's flag outside their home?

Should Alex relinquish his beloved "grandpa shoes", purchased secondhand?